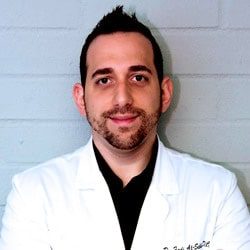 CHIROPRACTOR
Dr. Fadi Al-Selhi, D.C.
Dr. Fadi G. Al-Selhi is a licensed Chiropractic Physician in the State of California and Clinic Director of iSpine Health Center. Dr. Al-Selhi specializes in treating back pain, joint pain, personal injuries and rehabilitation.
Dr. Al-Selhi obtained his Doctorate of Chiropractic Degree from Cleveland Chiropractic College, Los Angeles.
Prior to obtaining his chiropractic degree, he graduated from California State Polytechnic University, Pomona, with a Bachelor's Degree in Biology.
Dr. Al-Selhi believes there is never a time to stop learning, so he is currently continuing his education at Carrick Institute for Graduate studies, completing a diploma in Functional Neurology. Functional Neurology is a new approach of treating Neurological disorders without the use of any medications or surgeries.
Dr. Al-Selhi is always current on what is the newest technology in the chiropractic field. All our equipment in the office is state of the art equipment. His goal is always to provide New non-surgical, drug free treatments to relieve pain.
In his free time Dr. Al-Selhi likes to enjoy family time with his wife and kids. He is a member of the American Chiropractic Association, which helps him stay up to date on what's new in the field to deliver the best to his patients.
OFFICE HOURS
---
Monday
8:30am - 4:30pm
---
Tuesday
Closed
---
Wednesday
8:30am - 4:30pm
---
Thursday
Closed
---
Friday
8:30am - 4:30pm
---
Saturday & Sunday
Closed